About
---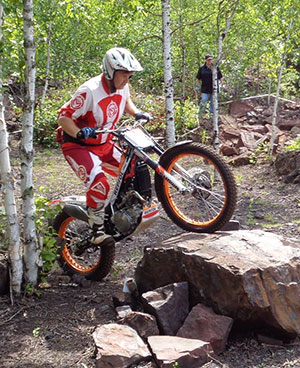 MotoTrials, also known as Observed Trials, is a non-speed motorcycle event where riders compete on specialized motorcycles to navigate a series of obstacles. The sport is very popular in the UK and Spain, however there are several clubs in the United States as well as a National Series ran by the NATC (North American Trials Council).
Modern trials motorcycles are very distinctive and have evolved to become extremely lightweight, lack a seat (they are designed to be ridden standing up) and have suspension travel that is short in comparison to modern motocross or enduro motorcycles.
MotoTrials events are split into sections where a competitor rides through an obstacle course while attempting to avoid touching the ground with the feet. The obstacles in the course may be of natural or constructed elements. In all sections, the designated route is carefully plotted to test the skill of the rider and sections are divided into separate courses to accommodate the different skill level of riders that compete in skill-rated classes.
Handbook
Click to download: UMTA Handbook (PDF)
Constitution & By-Laws
Click to download: UMTA Constitution & By-Laws (PDF)